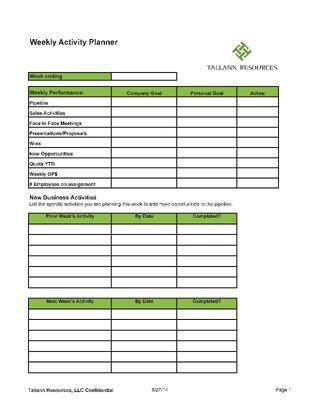 If you're like most sales reps, you tend to take on each day as it comes. Make a bunch of phone calls, read and respond to your emails, and hopefully go on a couple of appointments. The more activity the better, right? Well yes, and no.
Certainly there is a correlation between activity volume and sales results, but activity for the sake of activity is not a strategy. We refer to this as the "shotgun", or "throw spaghetti against the wall" approach – throw enough of it and something has to stick.
Unfortunately this hit or miss approach yields hit or miss results. Without a clear plan, opportunities are missed or lost, and you can spend much of your time spinning your wheels. This is why it is so important to take a few minutes to review your accomplishments from the prior week, and plan out your most important tasks for the coming week.
When developing your weekly plan, ask yourself one question: What are the five or six most important activities for me to accomplish? These should be the tasks that you need to complete to move opportunities into, through, or out of (as a win) your sales pipeline. They should be specific and quantifiable. "Make prospecting calls" is neither. Some examples of activities that meet these criteria include:
Send 50 introductory emails to call center prospect list, and follow up with phone calls
Contact local SHRM chapter to inquire about volunteer opportunities
Identify 300 suspects that I can begin qualifying
Send proposal to XYZ Company
Schedule site visit at ABC Company for recruiter
Schedule meeting with DEF Company to go over staffing agreement
All of these are specific, can be measured, and focus on moving the sales process forward. This doesn't mean these are the only activities you have – just the ones that are most critical to your success.
If you'd like an easy template to help with your planning, download our Weekly Activity Planner. It has some additional great ways to plan and manage your sales, including a Suspect-Prospect-Target list, Pipeline Planner, and Weekly Metrics tracker.