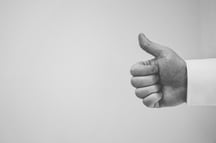 So you've landed the big deal – congratulations! Now its time to get your recruiting team involved. After all the work you've done to build trust, credibility, and value with the prospect, it is absolutely critical that the internal hand-off is handled with as much thought and care as the rest of your sales process. If you don't have a formal hand-off process (and most staffing firms don't), then you are jeopardizing your deal before the ink has even dried.
Here are 3 things you can (and should) do to ensure a smooth transition from sales to service, and to separate yourself from the rest of the pack:
1. Get the recruiting team involved early in the sales process.
The earlier and more often, the better. There are several reasons why this is not only smart from a hand-off perspective, but also is an effective sales tool.
You are just one personality, and sometime the prospect may not like that personality that much. I'm sure everyone loves you, but it's possible they may like the recruiter or branch manager even more.
Your prospect will trust them more than you. Frankly, there are some prospects that will just never trust a sales person. Who they will trust is someone that is "in the trenches" every day.
The recruiting team feels like they are part of the process. This creates engagement and ownership, which results in better results and happier new clients
The hand-off process is seamless. Since your recruiting team has already been involved, the transition from prospect to customer is much smoother.
2. Keep the team up to date.
There is nothing worse for recruiters than getting new orders from a sales person that they know nothing about. Communication is key, so make sure that you are keeping your recruiting team apprised of your hottest deals, where they are, what skill sets are involved, and the estimated timeline for go live.
3. Conduct a formal kickoff call or meeting
Very few of your competitors do this, so it gives you an opportunity to differentiate yourself. It also is a chance for you to make introductions, establish expectations on both sides, and create a smooth transition from you to the recruiting team. This call or meeting should be scheduled prior to starting the recruiting process if possible, and should have a specific agenda. In person is best, but in many cases the client will be more open to a phone call.
If you do these three things every time you have a hot prospect, you will land more deals, fill more jobs, increase new client retention, and develop a stronger relationship with your recruiting team. That's a pretty good ROI for just a little planning and communication.
Want more proven methods to increase your staffing sales, download our complimentary whitepaper "Ten Ways to Kickstart Your Staffing Sales".