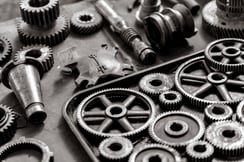 Like an assembly line, sales is a process that builds on itself. Regardless of how many stages are in your pipeline, the sales process boils down to four essential areas;
If any step in the process breaks down, you will not achieve the results you want or need. Don't do enough prospecting, you won't get enough appointments. Can't create enough demand and the prospect won't become a customer.
Because each step in the process is so critical to our overall success, its important to monitor and manage how we are doing in each area. While there are dozens of sales metrics we can track, I have identified four that are the best indicators of past, present, and future sales performance. Each one of these metrics measures one of the four areas above.
1. Sales Activity – It's a fact; most sales reps don't have enough activity. Activity drives the rest of the process. For sales reps that are 100% dedicated to new business development, 150 to 200 activities a week is a good benchmark for the staffing industry. I define a sales activity as either a live phone call, voicemail, email conversation, LinkedIn inmail conversation, or a conversation at a networking event. Emails don't count unless you have a response from the prospect, and networking conversations only count if you are talking to someone that is a potential prospect, influencer, or referral source.
2. Appointments – Getting in front of the prospect to identify their needs and present our solutions is key to sales success. While some companies require as much as 10 appointments a week, I've found that 3 to 5 qualified appointments a week is all that is needed to be successful in sales. Requiring too many appointments is actually counterproductive, because it usually forces sales reps to waste time on unqualified calls they would otherwise disqualify.
3. Pipeline – The pipeline shows us how many qualified opportunities we are working on at any given time. Pipeline amounts vary widely based on factors such as deal size, sales cycle, and staffing vertical, but a healthy pipeline should have 25 to 30 opportunities in it at any given time, and be consistently up to date.
4. % to Quota – At the end of the day, sales is about generating income. Attainment to quota is a measurement of the effectiveness of the sales reps' efforts. In staffing, quota should be based on gross profit dollars for the year and be a reasonable goal, not a pie in the sky stretch goal.
There are so many other metrics that you can use to measure your sales effectiveness, such as new opportunities, wins, and win ratio. And these are all valuable measurements to help you further analyze performance. But at the end of the day, if you are successful meeting or exceeding the four metrics listed above, you will be successful in sales.
Want to take the guesswork out of coming up with metrics goals for staffing sales? We have developed a sales goals worksheet that actually allows you to start with a gross profit goal and work backwards to set quantifiable, real numbers. Its free, and you can access a copy here!