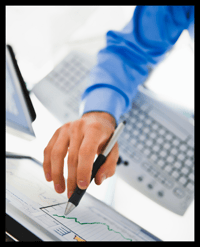 I'm a big fan of leveraging technology, and now more than ever there are some great resources for sales reps that are free, or almost free. Here are three that I use regularly to make my activity more efficient and drive sales.
Charlie (charlieapp.com)
Charlie actually does several really cool and valuable things for you. It syncs with your calendar and identifies the individuals you have appointments with. It will then conduct web research on those individuals and their companies, providing you with a summary report before your meeting. But an even cooler function of Charlie is its Google Chrome plugin that integrates with LinkedIn. Once you have installed the plugin, you will find a new "email finder" button that appears on LinkedIn profiles. By clicking on the button, Charlie will attempt to find that person's email address. I've found that it is accurate well over ½ of the time. That may not sound like great odds, but for a free service that saves me 10-15 minutes trying to figure it out on my own, its been a great resource
TimeTrade (timetrade.com)
My calendar is usually pretty booked, and like most of you, there are times when I'm trying to juggle scheduling multiple meetings at the same time. Rather than having to remember which time slots I offered to which people, and run the risk of double or triple-booking time slots, I use a nifty tool called TimeTrade. TimeTrade syncs with your calendar and allows you to send a link that shows what times you have available on your calendar and allows them to select what works best for them. Then both of you are sent a calendar invite and a reminder before your meeting. There is a free version you can use, or you can upgrade for as little as $49 a year for increased functionality.
LinkedIn Alerts
Of course you use LinkedIn for finding prospects and other sales activities. But did you know that you can not only save your prospect searches, but also be sent daily email alerts whenever someone is added to the list? Essentially you can search for prospect contacts, then have LinkedIn do the prospecting for you! You can also do the same with job postings on LinkedIn, so you will always know when companies are in need of particular skill sets you specialize in.
There are tons of great technologies out there for sales people. What other technologies are you using that save you time and increase your sales effectiveness?
Looking for a quick and easy way to track your sales activities and meet your sales goals! Then download our free sales tool, the Weekly Activity Planner.