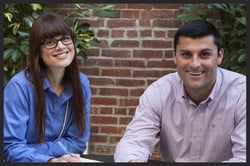 Referrals are extremely valuable for building candidate pools, but we rarely actively do it. Generally we are passive about referrals. A candidate or recent placement may happen to recommend a friend or neighbor, but not because we solicited the referral. If you proactively seek referrals you can reap the benefits. Here's why you want referrals and how to get them.
Why?
Good employees tend to refer good employees. A Workforce Management and Ohio State University study found that candidates hired through an employee referral had a 25% higher retention rate than those hired through other means. Not bad! And, the better your placements the more likely your clients will work with you in the future.
Employee referrals are cheap compared to other recruiting sources. Consider postings on job boards can cost $300-400+ a piece, and you would likely post the job on several boards. According to the most recent SHRM Employee Referral Program Survey Report, the most frequently indicated reward was $500 to $1,000. Would it not be better to give that money to a referring candidate or placement and build your loyalty and brand, than to Monster or CareerBuilder? In addition, you don't have to weed through dozens of unqualified resumes. If you already have a candidate pool, in part built from referrals, you can fill positions quickly.
How?
Here are four tips on how to get employee referrals.
1. Ask EVERYONE for referrals. Ask your network. Ask placements. Ask the passive candidates your soliciting for a position. What we mean by this is taking an indirect approach with your solicitation. "I'm reaching out to you to see if you might help me network in the Indianapolis market for a sales rep." Of course the person that you're messaging is a sale rep that fits the requirements for the position, but you're simply asking for a referral. And who knows, maybe the person you're soliciting might be interested too.
2. Be specific. Don't ask "do you know anyone", do ask "who would be someone you know". And, get specific with the type of skill set that your seeking. For example, "We are regularly looking for great physical therapist candidates. Who do you know that might help me network in the physical therapy field?" It is much easier when you can give some specific direction to your referrer. Rather than having to think through the 10,000 people they know, they can quickly pinpoint the three people they know with a specific career.
3. Offer referral bonuses based on position. First of all, if you don't have a referral bonus program, seriously consider one, or suggesting one to your boss. Referral bonuses are an incentive and "thank you" for helping you network. Your referral bonus payout should be greater for those positions that are more difficult to fill and based on the value of the position. A referral for an accounting clerk should not be the same as a CPA or JAVA developer.
4. Connect with everyone on LinkedIn, particularly candidates. You are likely recruiting for more people similar to your candidate or recent placement. Those people are generally your candidates' LinkedIn connections. After your connected to your candidate, you'll be able to see their 2nd level connections and target your recruiting efforts. In addition to candidates, you should also connect with EVERYONE you know, including family, friends, and neighbors. Your close relationships generally get overlooked as connections on LinkedIn because it is a professional network. But, your family, friends, and neighbors are likely on LinkedIn too. This is so important to building your network and expanding your reach to potential candidates.
You can easily proactively recruit and build a candidate pool for those positions that you place most often. Make referrals part of your everyday recruiting process and you'll reap the benefits of faster, higher quality placements.
proactive recruiting
We just released a new tool - the Ideal Staffing Sales Candidate Profile. Learn the characteristics to look for when selecting a high-performing sales professional for your staffing firm.